Winter Activities Westmoreland County PA
Area Information:Area Activities:
Ligonier Outfitters is located in a community where outdoor pursuits are amongst the most popular pastimes. Thanks to the many State Parks Pennsylvania and acres of undeveloped forests that occupy our area, Ligonier PA is a veritable haven for people who love the outdoors. There are countless ways to enjoy nature, but some of the most popular activities in Westmoreland County PA are PA Fly Fishing, Hiking Pennsylvania, Kayaking in Pennsylvania, Hunting Deer in Pennsylvania, and Pennsylvania Mountain Biking. Even during the winter, when the ground is blanketed by thick layers of snow, the people of Ligonier venture into the pristine wilderness to take in the spectacular views. Unwilling to let a little snow stop them, the people of Ligonier PA hop on their snowmobiles and strap on their skis for two of the area's most popular winter activities: Snowmobiling in Pennsylvania and Cross Country Skiing in PA.
Snowmobiling in PA
Looking for an exciting way to enjoy the snow this winter? Snowmobiling in Pennsylvania is one of the most thrilling ways to get a glimpse of the winter wonderland our area becomes after each snowfall. Snowmobiling in PA trails crisscross the many State Forests Pennsylvania in our area, and many are easily accessible. At Laurel Hill State Park, you'll be able to enjoy 10 miles of Snowmobiling in Pennsylvania Trails that connect with the 70-mile trails system in Forbes State Forest. Laurel Ridge State Park is another great place to enjoy Snowmobiling in Pennsylvania, and many of the Pennsylvania State Game Lands in and around Westmoreland County provide the public with places to participate in this perfect winter pastime. State Game Land (SGL) 42, portions of which are located in Westmoreland County, contains 26.2 miles of Snowmobiling in Pennsylvania trails, while SGL 50, SGL 111, and SGL 228 in neighboring Somerset County offer many miles of Snowmobiling in PA trails. When Snowmobiling in Pennsylvania, it is imperative to follow the rules and regulations put in place by the PA State Parks that Have Campgrounds and State Game Lands Pennsylvania. All vehicles must be registered and must stay on designated trails, which are only available at certain times throughout the Pennsylvania Deer Hunting Season.
Cross Country Skiing in PA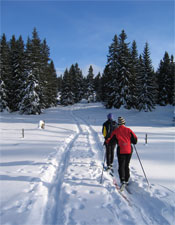 Another popular pastime for snow lovers, Cross Country Skiing in PA is a fantastic way to enjoy Ligonier PA's magnificent wilderness during the chillier months. Laurel Ridge State Park offers 35 miles of trails for Cross Country Skiing in PA and a 20-mile cross country skiing tour concession that requires a fee, and Laurel Hill State Park's 12 miles of hiking trails are ideal for the sport when covered in snow. Laurel Mountain State Park was one of the first ski areas in Pennsylvania, and today is known for a wonderful downhill ski area, fantastic views of the surrounding mountains, and numerous slopes and trails that are perfect for both skiers and snowboarders. There is even a quaint ski lodge, ideal for refueling and taking in the scenery.
Even during the wintertime, outdoor activities reign supreme in Westmoreland County PA, and Snowmobiling in Pennsylvania and Cross Country Skiing in PA are only two of the ways that locals and visitors like to enjoy the outdoors. All year round, activities like Hunting PA, Canoeing in Western PA, and camping provide the people of Ligonier PA with ways to stay in touch with nature. Not just a haven for outdoor enthusiasts, our community is also well known for Fort Ligonier PA, a part of our heritage which we celebrate annually with Ft Ligonier Days Ligonier PA. Our area is home to fantastic Lodging in Westmoreland County PA and a variety of Restaurants Ligonier PA, both of which are popular among locals and visitors alike. If you're planning a trip to Ligonier PA, try to do so around some of our spectacular local festivals. That way, you can experience our rich heritage and take some time to enjoy the beautiful scenery by participating in the countless outdoor activities made possible by the many acres of undeveloped terrain that surround our community. Whatever you plan to do, make sure you pay a visit to Ligonier Outfitters, where we can help you find specialty items for all of our outdoor pursuits. Though we specialize in Orvis Fishing Equipment and provide knowledgeable Trout Fishing Guides PA, we can help you gear up for virtually any outdoor activity, and we even sell home décor, pet supplies, and gifts!
Laurel Mountain State Park
c/o Linn Run
Rector, PA 15677-0050
724-238-6623
Manager: Doug Finger
Laurel Hill State Park
1454 Laurel Hill Park Road
Somerset, PA 15501-5629
814-445-7725
Manager: Michael Mumau
Laurel Ridge State Park
1117 Jim Mountain Road
Rockwood, PA 15557-5454
724-455-3744
Manager: Michael Mumau
Forbes State Forest Bureau of Forestry Forest District #4
PO Box 519

Laughlintown, PA 15655
724-238-1200
If you have any questions or would like more information, please email us or use our contact form.