ATV Riding in PA and Pennsylvania Mountain Biking
Area Information:Area Activities:
There are so many ways to enjoy the outdoors in Westmoreland County PA that visitors are often amazed by the selection. Ligonier PA is full of Pennsylvania State Game Lands and State Parks in PA with Camping that make a myriad of outdoor activities possible. Ligonier Outfitters caters to those who love Fly Fishing in PA, but we also provide the proper equipment for a number of other outdoor hobbies like Horseback Riding in Pennsylvania, Canoeing in Western PA, Cross Country Skiing in PA, Snowmobiling in Pennsylvania, and even participating in fantastic local festivals like Ft Ligonier Days Ligonier PA. Though all of these activities offer maximum amounts of fun in the outdoors, ATV Riding in Pennsylvania and Mountain Biking Pennsylvania are two activities that provide thrill seekers with the excitement they're looking for.
One popular place to go ATV Riding in PA and Mountain Biking Pennsylvania is Powdermill Loop, a series of trails near Ligonier PA. This 13.8-mile trail is perfect for Pennsylvania Mountain Biking and, in some spots, is wide enough for ATV Riding in PA. With an 840-foot elevation, this strenuous trail provides glimpses of the Pennsylvania Turnpike from high atop Laurel Hill. The trail actually cuts through the mountain and traverses portions of Linn Run State Park, one of the PA State Parks with Campgrounds. You'll even get to discover a small spring which, according to local legend, has healing powers. For a truly secluded Mountain Biking Pennsylvania experience, you'll want to explore Powdermill Loop.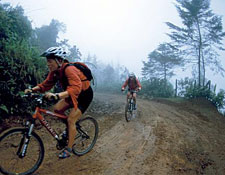 Another great place for Mountain Biking in Pennsylvania is Laurel Summit Loop. The hills of the Laurel Highlands create the perfect backdrop for scenic Pennsylvania Mountain Biking. Formerly a barren wasteland stripped of virgin forests by the lumber companies that once reigned supreme in the area, Laurel Summit is now an 11.7-mile loop that winds through thickly forested hills, providing spectacular views from the summits of the Laurel Mountains. When you go Mountain Biking Pennsylvania here, you'll have the chance to experience some true solitude in these beautiful second-growth forests, and you may even run into an animal or two along the way.
There are so many things to do in Ligonier PA that it is often difficult to choose which activities to try. Our State Parks in Pennsylvania offer a variety of opportunities to enjoy the wilderness. From Snowmobiling in Pennsylvania to Cross Country Skiing in PA, from Kayaking in Pennsylvania along the many rivers and streams that traverse our area to Horseback Riding in PA, Westmoreland County PA is home to an abundance of unspoiled wilderness for all to enjoy. At Ligonier Outfitters, we provide the area's best selection of authentic Orvis Fishing Equipment and can help you prepare for any and all of your outdoor adventures with our various products. We hope that you'll stop by and visit us!
Linn Run State Park
P.O. Box 50

Rector, PA 15677-0050
724-238-6623
Manager: Doug Finger

Laurel Summit State Park
c/o Linn Run Rector, PA 15677-0050
724-238-6623
Manager: Doug Finger
If you have any questions or would like more information, please email us or use our contact form.