Western Pennsylvania Camping
Area Information:Area Activities:
People come to Ligonier Outfitters to purchase apparel and supplies for all of their favorite outdoor recreational activities. Though we accommodate anglers and those who like to go Trout Fishing PA, we also provide a wide selection of clothing and equipment for those who like to participate in the myriad of outdoor activities our area has to offer. Whether you plan on going Steelhead Fishing PA, learning some new Techniques for Fishing for Rainbow Trout, traversing the Best Hiking Trails in Pennsylvania, Canoeing in PA, or Horseback Riding in PA, chances are that Ligonier Outfitters has some item or another that will make your trip easier, more comfortable, or just more fun. We cater to all kinds here at Ligonier Outfitters, so we know that many of the folks who like to go Hunting Pennsylvania, Fly Fishing PA, Kayaking in Pennsylvania, and Pennsylvania Hiking in Westmoreland County PA prefer to spend long periods of time camping in the great outdoors. It helps them feel closer to nature, gives them a more authentic wilderness experience, and allows them to spend more time doing the things they love to do. Ligonier's many State Parks Pennsylvania provide our patrons with perfect places to go camping.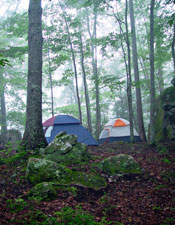 There are a number of campsites at the many PA State Parks that Have Campgrounds near Ligonier PA. At Linn Run State Park, you'll find 612 thickly forested acres that are ideal for hunting, fishing, hiking, canoeing, picnicking, and snowmobiling nestled against the border of the 50,000 wild acres that comprise Forbes State Forests. Here, you'll also find 9 rustic cabins and one modern cabin that are available for rent all year long. Perfect Pennsylvania Camping Sites, these cabins include primitive amenities and contain sparse but adequate furnishings. Inside them, you'll find beds, benches, tables, stoves, refrigerators, fireplaces, and other heat-producing devices. Visitors will have to go outside to use the non-flush toilet or reach the water spigots, but the nearby washhouse provides modern showers and flushable toilets. The modern cabin is more akin to a traditional vacation rental, and provides all of the comforts of home in an authentically wild setting. These cabins are surrounded by beautiful wilderness and offer prime Fishing in PA, Hiking in Pennsylvania, Hunting Deer in Pennsylvania, and more.
Some other PA State Parks with Camping include Laurel Hill State Park, where visitors will find a number of camping options including camping cottages, tent camping, large cabin camps, and even a beautiful two-family vacation rental, the Laurel Hill Lodge. The amenities at these different accommodations range from primitive to comfortable. Along the Laurel Highlands Hiking Trail, hikers may choose to seek respite in any of 8 overnight shelter areas that are situated just a short distance off the path. With fireplaces, non-flush toilets, and a water supply, there is room nearby for 30 tents.
In addition to PA State Parks with Campgrounds, numerous privately owned facilities are located in and around Westmoreland County. Whether your preference is tent camping, staying in rustic cabins, or taking a more modern approach to enjoying the wilderness, you can find a variety of options near Ligonier PA. If you want to take an overnight Hunting Deer in Pennsylvania expedition, an overnight Hiking in Pennsylvania trip, or a several-day-long Kayaking in Pennsylvania trip down one of the numerous rivers and streams that flow through Westmoreland County PA, chances are, there are campsites or State Parks in PA with Cabins that will perfectly suit your needs.
For all of your wilderness needs, check out the selection Ligonier Outfitters has to offer. Our store has something for everyone, just like our community. The numerous outdoor activities, fantastic Lodging in Westmoreland County PA, delicious Restaurants Ligonier PA, and unique local festivals like Ft Ligonier Days Ligonier PA and the Highland Games Ligonier make Ligonier a fantastic place to visit and an even better place to live.
Linn Run State Park
P.O. Box 50
Rector, PA 15677-0050
724-238-6623
Manager: Doug Finger
Laurel Ridge State Park
1117 Jim Mountain Road
Rockwood, PA 15557-5454
724-455-3744
Manager: Michael Mumau
Laurel Hill State Park
1454 Laurel Hill Park Road
Somerset, PA 15501-5629
814-445-7725
Manager: Michael Mumau
If you have any questions or would like more information, please email us or use our contact form.