History of Westmoreland County PA
Area Information:Area Activities:
Ligonier PA is a fantastic place for those who love the outdoors. From Snowmobiling in PA to Trout Fishing PA, from Pennsylvania Hiking Trails to ATV Riding in PA, there are a number of fantastic State Parks in Pennsylvania that provide the means by which an almost unlimited number of outdoor activities can be enjoyed. However, Ligonier PA is also a community with a long, rich history. The History of Westmoreland County PA is an interesting one, and one that contains a large number of culturally significant events.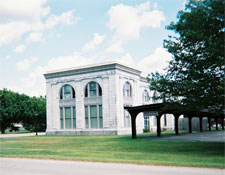 Before 1727, there had been no permanent Native American settlements on the land that is now called Ligonier PA. Not until European settlers arrived in the area did members of the local Native American population make a permanent home at the confluence of Mill Creek and Loyalhanna Creek. In the following years, the English and French became increasingly combative over the land that now comprises the Midwest. During the French and Indian War, which took place during the 1750s, the French suffered a particularly brutal defeat at the hands of the English in Ligonier PA. Because such a pivotal event took place here, it was often referred to as "the Key to the West in 1758."
The town of Ligonier PA in Westmoreland County was laid out in 1817, and became an incorporated borough by 1834. Today, it serves as a constant reminder of the past with its quaint public square—also referred to as "the Diamond"—which was once a gathering place for farmers and a convenient spot for stagecoaches to hitch their horses. Today the Diamond is lined with charming shops, but manages to retain its historical integrity; it is just one of the many attributes that draw visitors to this quaint town each year. The History of Westmoreland PA is one that is full of excitement and intrigue, so the community has done its best to preserve it through local festivals that celebrate the History of Westmoreland County PA. Ft Ligonier Days Ligonier PA is perhaps its most famous festival, but others, like the Flax Scutching Festival, the Highland Games Ligonier, and the Laurel Highlands Bluegrass Festival, also celebrate local tradition and arts.
In Westmoreland County PA's Ligonier PA, you can take a step into the past while connecting with nature. Local festivals like Ft Ligonier Days Ligonier PA and The Highland Games Ligonier celebrate the History of Westmoreland County PA while activities like Trout Fishing PA, Hiking in Pennsylvania, Kayaking in Pennsylvania, Snowmobiling in PA, Cross Country Skiing in PA, Pennsylvania ATV Trails, and Horseback Riding in PA keep things interesting. When you visit Ligonier PA, make sure to stop at Ligonier Outfitters, where we strive to supply the best Orvis Fishing Equipment, including Orvis Fly Fishing Rods, Orvis Hunting Vests, the Orvis Women's Fall Catalog, and even an Orvis Watch or two. There is also plenty of Lodging in Westmoreland County PA to accommodate our many visitors, and numerous PA State Parks that Have Camping are located in our area, so start planning your trip to Ligonier PA today and see what Westmoreland County PA has to offer!
If you have any questions or would like more information, please email us or use our contact form.