Local Festivals
Area Information:Area Activities:
If you're looking for a fantastic place to stock up on the best Orvis Fishing Equipment, consider heading to Ligonier Outfitters in Ligonier PA. Westmoreland County is the perfect place to go Trout Fishing PA and Steelhead Fishing PA. There are a number of rivers and streams in our area that provide anglers with great places to fish. Although it is a haven for those who love Trout Fishing PA, Ligonier PA is also a fantastic place for anyone who enjoys the outdoors. The many rivers, lakes, and streams located throughout the area are perfect for sports like Kayaking in PA, and the numerous Pennsylvania State Parks in Westmoreland County PA provide the perfect setting for activities such as Snowmobiling in PA, ATV Riding in PA, Horseback Riding in PA, and Deer Hunting in Pennsylvania. Although it is a great place for outdoorsmen and lovers of nature, Ligonier PA is also a historical community that celebrates its history through a variety of festivals and celebrations. Ft Ligonier Days Ligonier PA, Highland Games Ligonier, and the Flax Scutching Festival are three events that take place annually and celebrate unique aspects of life in Ligonier PA.
Fort Ligonier Days
Ft Ligonier Days Ligonier PA is arguably the most popular of Ligonier PA's many festivals and celebrations. Commemorating the British victory over the French and Indians on October 12, 1758, this festival is alive with an array of activities that revolve around the epic battle that took place at Fort Ligonier PA. Those who attend can expect to see historically accurate reenactments of the pivotal battle complete with costume-clad performers, a spectacular parade, a variety of live music, booths featuring both crafts and food, and general excitement all around.
Ligonier Highland Games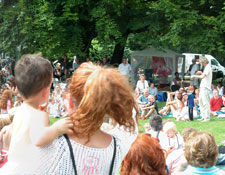 The Highland Games Ligonier are just another of the festivals dedicated to the colorful history of the community of Ligonier PA. The Scottish marched with the British army during the French and Indian War and helped secure victory for their British counterparts. Today, their descendents celebrate their heritage with a festival that commemorates Scottish culture, including music, athletics, traditional crafts, and food. Since the Highland Games Ligonier originated half a century ago, attendance has steadily risen to an average of 10,000 people per year.
Proceeds from this fun-filled festival are used, in part, to send a lucky graduate student to the Scottish university of his or her choice.

The Flax Scutching Festival
In keeping with the themes of the Highland Games Ligonier PA and Ft Ligonier Days Ligonier PA, the Flax Scutching Festival also celebrates the unique heritage of the first Europeans who settled in the Ligonier Valley. Since 1907, their descendents have been gathering to keep the ancient tradition of "scutching" alive. "Scutching" refers to the process by which previous generations—from pre-Biblical times to as recently as the 1800s—turned the common plant, flax, into linen. Today, the process can be witnessed firsthand at the Flax Scutching Festival in Ligonier PA. In addition, visitors will be able to sample homemade food, browse a variety of crafts, listen to live music, and experience various reenactments, including a Civil War encampment, a covered wagon train encampment, and a staged Indian raid.
With so much history to celebrate, it is no surprise that Ligonier PA plays host to so many interesting local festivals each year. Ft Ligonier Days Ligonier PA, the Highland Game Ligonier PA, and the Flax Scutching Festival are three events you won't want to miss. If you're visiting the area, consider spending some time in the great Lodging in Westmoreland County PA, where you'll be just minutes from the action. Come for the local festivals, but stay for the many fabulous outdoor activities Ligonier PA has to offer. At Ligonier Outfitters, we can help prepare you for all of your outdoor adventures. We have the equipment you need to get the greatest enjoyment out of Trout Fishing PA, Hiking in Pennsylvania, Snowmobiling in PA, Cross Country Skiing in PA, Mountain Biking in Pennsylvania, Deer Hunting in Pennsylvania, and Kayaking in PA. From Orvis Fishing Equipment like Orvis Fly Fishing Rods, Orvis Hunting Vests, and Orvis Women's Clothing to home décor, pet supplies, and PA Fly Fishing Guides, Ligonier Outfitters has everything you need to make the most out of your time in the outdoors.
If you have any questions or would like more information, please email us or use our contact form.