Fishing in PA
Area Information:Area Activities:
When you're in need of Orvis Fishing Equipment, Ligonier Outfitters in Westmoreland County PA has a wide selection of products that will meet your needs. From Orvis Fly Fishing Rods to Orvis Women's Clothing and everything in between, we rank number one among the area's Orvis Retail Stores. One of the reasons people journey to Ligonier is to go Fishing in Southwest PA in the numerous rivers that run through Westmoreland and the surrounding counties. These rivers are fantastic for Trout Fishing in PA, Steelhead Fishing PA, and even PA Carp Fishing. If you're interested in PA Fly Fishing, Ligonier Outfitters has PA Fly Fishing Guides who can show you all of the best PA Fishing Lakes and Pennsylvania Rivers. We encourage you to stop by our Orvis Retail Store if you're interested in learning some Steelhead Fishing Techniques, but we have also provided some information on the many PA Fly Fishing spots in our area. There are a number of prime Trout Fishing PA rivers and streams in and around our area. Fourmile Run, Jacobs Creek, Northmoreland Lake, Sewickley Creek, Linn Runn, and Loyalhanna Creek are just a few of the great places anglers like to go Trout Fishing in PA.
Linn Run
Linn Run, which flows through Linn Run State Park, one of the State Parks in Pennsylvania, provides anglers with opportunities to go Trout Fishing PA in the vicinity of some other fantastic activities like Hiking Pennsylvania, Canoeing in PA, Kayaking in Pennsylvania, Snowmobiling in PA, and Cross Country Skiing in PA.
Loyalhanna Creek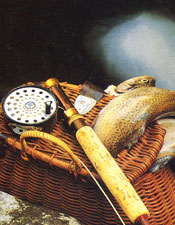 Another popular destination for Trout Fishing in PA is Loyalhanna Creek. This tributary of the Kiskiminetas River flows NNE through Westmoreland County PA from where it begins on the slopes of Laurel Ridge. At approximately 50 miles in length, there are plenty of opportunities for Trout Fishing PA on its banks, and it is also a popular destination for those who love Canoeing in PA.
Indian Creek
Anglers looking for delayed harvest Trout Fishing PA streams where the use of artificial lures is permitted, will want to explore Indian Creek. From its starting point at Road 916, it runs 1.6 miles to the bridge at Route 0381 and is stocked just before Trout Season in Pennsylvania each year with rainbows, brookies, and browns.
North Westmoreland Lake
For early season trout-stocked water programs, anglers visit Northmoreland Lake. Located at Northmoreland Park in Westmoreland County PA, this 17-acre lake is a fantastic place to go Trout Fishing PA, but is also a great place for
Hunting in PA
, Canoeing in Western Pennsylvania and Kayaking in PA, enjoying a group get-together, and participating in a number of other activities.
Ligonier PA is every angler's dream. With an almost endless number of well stocked Fishing in Southwest PA waters, there is no shortage of places to participate in your favorite pastime. Those who love the outdoors will love spending time in Westmoreland County PA. Here, visitors find activities like Steelhead Fishing PA, Pennsylvania Hiking Trails, Cross Country Skiing in PA, Pennsylvania ATV Trails, Horseback Riding in PA, Pennsylvania Bear Hunting, and a number of awe-inspiring PA State Parks that Have Campgrounds. Ligonier Outfitters has everything you'll need for your next outdoor adventure. From Orvis Fishing Equipment to Orvis Women's Clothing, we can help you prepare for virtually any outdoor activity you have in mind!
If you have any questions or would like more information, please email us or use our contact form.