Steelhead Fishing in PA and Trout Fishing in PA
Area Information:Area Activities:
Ligonier PA is the perfect setting for Orvis Retail Stores such as Ligonier Outfitters. In fact, we are actually the area's top provider of Orvis Fly Fishing Rods, Orvis Women's Clothing, Orvis Hunting Vests and other Orvis Fishing Equipment, as well as all the apparel you'll need to get the most out of each of your journeys into the wilderness. Both locals and visitors alike love to take advantage of the many PA State Parks with Campgrounds, wild areas, and Pennsylvania State Game Lands that exist throughout Westmoreland County PA. These vast wilderness areas provide ample opportunities for activities like Bird Hunting in PA, Snowmobiling in Pennsylvania, Cross Country Skiing in PA, Horseback Riding in Southern Pennsylvania, and even ATV Riding in PA. At Ligonier Outfitters, our favorite pastime is Fishing in PA. Though there are numerous ways to enjoy this sport in our great state, including Ice Fishing PA and PA Fly Fishing, we find that many of our patrons are passionate about Steelhead Fishing PA and Trout Fishing PA.
Steelhead Fishing PA
Commonly referred to as steelheads, these anadromous, or migrating, cousins of the rainbow trout are sought after by anglers far and wide. Unlike the landlocked rainbow trout that must live out their lives in fresh water, steelheads have the ability to migrate from the ocean to fresh water to spawn, and then return to the ocean. Often large, these fish are a challenge to anglers because they won't go down without a good fight. There are a number of ways to attract these feisty fish, and those who love Steelhead Fishing PA have often met with success when employing these Steelhead Fishing Techniques:
Backtrolling plugs, which sink to the bottom and mimic the action of a steelhead's usual prey, are often an easy way to land one of these sought after fish.
Drift fishing, which refers to a certain method of Steelhead Fishing in PA, involves casting a bait/drift bobber combination with a lead weight attached to it a short distance upstream and allowing it to move with the current in such a way that it will attract the fish. This is one of the many Steelhead Fly Fishing Techniques that often produces results; however, it does require skill, and experienced fishermen will be more likely to meet with success using this particular method.
Using hardware, including spoons and spinners, is another of the better Steelhead Fishing Techniques that aid the anglers who like to go Steelhead Fishing PA. Though many people attempt this method, few meet with success. Once mastered, this is one of the Steelhead Fly Fishing Techniques that can get you the most fish.
Trout Fishing Techniques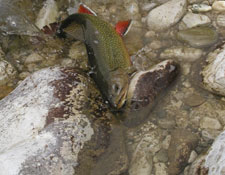 Needless to say, Trout Fishing in PA is a popular pastime amongst the many anglers who flock to the Ligonier PA area to take advantage of our many scenic rivers and streams. A variety of Techniques for Lure Fishing for Trout can be employed to catch these popular fish:
One of the most popular Techniques for Fishing for Rainbow Trout is fly fishing. At Ligonier Outfitters, we sell Orvis Fly Fishing Rods and can help you pick out the perfect Orvis Spinning Rod for your next Trout Fishing in PA trip. Flies are made to mimic a trout's normal food, so there are a variety of different kinds to choose from. Consider consulting one of our Trout Fishing Guides PA for more information.
If you plan on going Trout Fishing in PA in deeper waters, consider trout jigs, which mimic the tiny minnows on which trout often feed. These tiny jigs make Trout Fishing in PA easy, but beware of snagging them on various surfaces like rocks, logs, branches, or other obstructions.
Trout Fishing in PA can also be enjoyed with a variety of baits, including insects and homemade recipes. Many fishermen have found that adding small bits of food to their hooks is one of the more successful Brown Trout Fishing Techniques, so be creative because you never know what will work for you!
Though these tips can be helpful, there is nothing quite like meeting with one of the Trout Fishing Guides PA who works with us here at Ligonier Outfitters. Not only do we provide seasoned guides who know these rivers and streams inside and out, but we sell a number of products that can help you with all of your outdoor adventures. Our Orvis Fly Fishing Rods are perfect for all of your fly fishing endeavors, while our Orvis Hunting Vests will prepare you for trips to the many Pennsylvania Game Lands the fill our area. Even if you're not a fan of the outdoors, you'll love perusing the wide selection of products we offer, including men's and women's apparel, pet supplies, and even home furnishings.
If you have any questions or would like more information, please email us or use our contact form.