Ligonier PA Restaurants
Area Information:Area Activities:
Ligonier Outfitters is located in Ligonier PA, a haven for those who love to go Fishing in Pennsylvania. With so many rivers and streams winding their ways through the many wild areas and State Parks Pennsylvania that span Westmoreland County PA is an ideal destination for those who love Fly Fishing in PA, but it is also home to a variety of other activities that will appeal to both outdoor enthusiasts and history buffs. If you love Snowmobiling in Pennsylvania, Cross Country Skiing in PA, exploring the Best Hiking Trails in Pennsylvania, visiting Pennsylvania Camping Sites, Horseback Riding in PA, or riding the best Pennsylvania ATV Trails, you'll love Ligonier PA. If you enjoy historical and cultural activities, our many local festivals, like Fort Ligonier Days Ligonier PA, will interest you, as well. With all of these great activities, you're sure to work up an appetite in Ligonier PA, so it's a good thing that our community is full of great Ligonier PA Restaurants.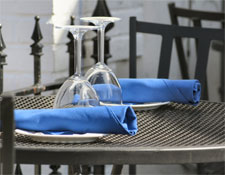 No matter what kind of fare you crave, you'll find something to satisfy your hunger in Ligonier PA. Whether you want to dine in or take your food home or to your Lodging in Westmoreland County PA, Fox's Pizza Den in Ligonier offers classic Italian favorites like pizza, Stromboli, and salad. First Wok is a great place to get Chinese food and also offers both dine in and take out options. The Fairfield Grill offers New York style cuisine. Affordable and delicious, the menu includes seafood, choice meats, and daily specials. Bring your favorite beverage with you and the Fairfield Grill will both store it and pour it. Cool Springs Express provides a lively atmosphere and a menu featuring subs, pizza, and sandwiches as well as live entertainment on the weekends. For a tasty treat, you'll want to stop by Abigail's Coffeehouse, which serves gourmet coffee, ice cream, smoothies, and pastries.
If you're looking for a truly unique dining experience, there are number of Ligonier PA Restaurants that offer just that. Green Gables Restaurant serves New American Cuisine in a chic country atmosphere. The views of the garden are as beautiful as the food is delicious, and the restaurant's décor, which consists of antiques and statuaries, lends to the elegance. Colonial Inn Restaurant is located within a recently restored historical building, and offers patrons a variety of expertly prepared gourmet dishes. With entrées like duck, pasta, filet mignon, and lamb, something on Colonial Inn Restaurant's menu will appeal to everyone. At Darlington Inn, you can try traditional Transylvanian-Hungarian goulash, and at Ligonier Landmark Bakery, you'll be able to sample everything from cookies and cakes to sandwiches and wraps, along with delicious coffees and teas.
Although Ligonier PA is an outdoor lover's paradise, it is full delicious Restaurants Ligonier PA. If you visit Ligonier to go Hiking Pennsylvania, Camping in PA, Snowmobiling in Pennsylvania, Cross Country Skiing in PA, or to go Fly Fishing in PA with the new Orvis Fishing Equipment you purchased from Ligonier Outfitters, why not take a break from your outdoor adventures to enjoy a hearty meal at one of Westmoreland County PA's delicious restaurants. With so many different kinds of cuisine to choose from, you won't be disappointed by our selection. With great activities like Kayaking in Pennsylvania or participating in the festivities of Fort Ligonier Day Ligonier PA, Ligonier is not only full of great Lodging in Westmoreland PA, but also great Restaurants Ligonier PA.
Abigail's Coffeehouse
104 West Main Street
Ligonier, PA 15658
724-238-9373
Colonial Inn Restaurant
Route 30 West
Ligonier, PA 15658
724-238-6604
Cool Springs Express
3670 Route 711N
Ligonier, PA 15658
724-238-3550
Darlington Inn
1473 Darlington Road
Ligonier, PA 15658
724-238-7831
The Fairfield Grille
111 N. Fairfield Street
Ligonier, PA 15658
724-995-8187
First Wok
321 West Main Street
Ligonier, PA 15658
724-238-4378
Fox's Pizza Den
122E North Market Street (Pondstone Park)
Ligonier, PA 15658
724-238-3733
Green Gables Restaurant
7712 Somerset Pike
Jennerstown, PA 15547-0205
814-629-9201
Ligonier Landmark Bakery
106 N. Fairfield St.
Ligonier, PA 15658
724-238-3838
If you have any questions or would like more information, please email us or use our contact form.