Pennsylvania Hiking
Area Information:Area Activities:
In Ligonier PA, you'll find a variety of prime Fishing in PA locations. Ligonier Outfitters, the area's best place to stock up on Orvis Fishing Equipment, is located amidst a number of Rivers in Pennsylvania that are ideal for Steelhead Fishing PA and Trout Fishing PA. We even provide Trout Fishing Guides PA for the novice of the long-time angler who wants to improve upon his or her skills or find a new Fishing Creek PA. Though we are located in a fantastic Fishing in PA area, that is certainly not the only activity Ligonier PA has to offer. In fact, Westmoreland County PA is a nature lover's dream come true. Full of beautiful State Parks in Pennsylvania with great Horseback Riding in PA trails, abundant game lands for things like Deer Hunting in Pennsylvania, ATV Trails Pennsylvania, rivers and streams that are ideal for Canoeing in PA and Kayaking in Pennsylvania, and winters that provide plenty of snow for Snowmobiling in Pennsylvania and Cross Country Skiing in PA, there is no shortage to the number of fantastic outdoor activities you can enjoy in Ligonier PA. One of the most popular of these activities is Hiking in Pennsylvania. Our area is crisscrossed with an almost countless number of Hiking Trails in Pennsylvania that provide ideal outdoor entertainment for virtually anybody. The Laurel Highlands Hiking Trail Pennsylvania, the Potomac Heritage Trail, and the Forbes State Forest are all popular destinations for those looking to explore the best Hiking Trails in Pennsylvania.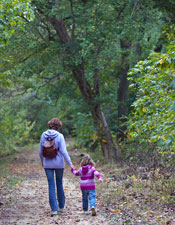 The Laurel Highlands Hiking Trail
The Laurel Highlands Hiking Trail Pennsylvania is one of the most visited trails amongst hikers in Pennsylvania, and especially the Ligonier PA area. Considered a National Scenic Trail, it winds for 70 miles along Laurel Ridge from Conemaugh Gorge to Ohiopyle State Park, just east of Uniontown, Pennsylvania. Those seeking solitude will love this backpacking trail, which traverses state game lands and State Parks Pennsylvania. Though it ranges from easy to strenuous, some parts of the Laurel Highlands Hiking Trail Pennsylvania are ideal for Cross Country Skiing in PA. Those interested in overnight State Park Camping in PA will want to consider spending time in the eight overnight areas, which are located a short distance from the trail and can each accommodate up to six people. The 70 miles of the trail are marked every 100 feet with yellow blazes, so the trail is easy to follow.
The Forebes State Forests
Named for General Forbes, who was instrumental in the construction of a road from Bedford to Fort Pitt, Forbes State Forest contains some of the Best Hiking Trails in Pennsylvania. Throughout the 50,000 acres that comprise this state forest, hikers will find ten Hiking Trails in Pennsylvania and designated areas that are perfect for Hiking Pennsylvania. Blue Hole Division Trail System, the Laurel Highlands Hiking Trail Pennsylvania, Lick Hollow Area/Whitetail Trail, Spruce Flats Bog, the Mt. Davis Area Trail System, the Mountain Streams Trail System, the North Wood Trail System, the Quebec Run Wild Area, the Roaring Run Natural Area, and the Bob Ache Memorial Forest each offer unique environments for Hiking in Pennsylvania. From wooded areas to mountain vistas to idyllic rivers and streams, you'll discover something new with each step you take on any of the ten Pennsylvania Hiking Trails that wind their way through Forbes State Forest.
There are an almost endless number of ways to explore the wilderness that attracts so many to Westmoreland County PA. Whether Fishing in PA is your activity of choice or you'd rather spend your time Mountain Biking Pennsylvania, you'll love visiting Ligonier PA. In fact, you can enjoy almost anything in our southwestern region of Pennsylvania. Hunting in Pennsylvania, Snowmobiling in PA, Kayaking in Pennsylvania, and Steelhead Fishing in PA are just a few of the fabulous activities you can enjoy here. Ligonier offers much more than just outdoor recreation, though. With local festivals like Ft Ligonier Days Ligonier PA and the Highland Games Ligonier, fabulous Ligonier PA Restaurants, and great Lodging in Westmoreland County PA, the area in which Ligonier Outfitters is located has something for everyone!
Forbes State Forest
Bureau of Forestry Forest District #4
PO Box 519

Laughlintown, PA 15655
724-238-1200

Laurel Highlands Hiking Trail
Laurel Ridge State Park
1117 Jim Mountain Road
Rockwood, PA 15557-5454
724-455-3744
If you have any questions or would like more information, please email us or use our contact form.