Books & DVDs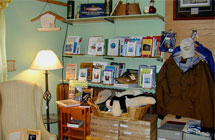 Come visit our book and video department featuring some of the latest books on fly fish knots, fishing techniques, streams & hatches, and casting.
There's also a complete Orvis cookbook with 50 great recipes for fish and game.
Choose from such notable authors as Kaufman, Meck, Pobst, Kreh, Gierach, Beck, Hughes, Wulff, Jorgensen, Burger, Rosenbauer, Wolf, Landis, and many more!
Buy or rent a DVD or just come in and browse.
If you have any questions or would like more information, please email us or use our contact form.